Sauces in a small jar, Villgrater
Villgrater – Goulash di Manzo Tirolese da 400 gr.
€8,80 VAT incl.€2,20 /100 g
The delicious soups and goulash of our production offer a healthy and balanced diet and at the same time know how to satisfy your appetite. Thanks to the exclusive use of natural ingredients with a high content of nutrients and vegetables, they offer a truly special taste experience.
Preparation
In collaboration with famous chefs we create unique recipes that, by our choice, do not contain preservatives and flavor enhancers.
All our products are prepared and placed manually in glass jars in the traditional way, just like our grandmothers did.
How to taste them
Our soups are as varied as their different flavors: in addition to the classics, such as goulash soup or barley soup, our range of products includes many local specialties, which do not contain flavor enhancers or artificial additives.
Our soups and our goulash are ready to use and can be easily heated in a pot or in the microwave (without a lid).
Technical sheet - Tyrolean Beef Goulash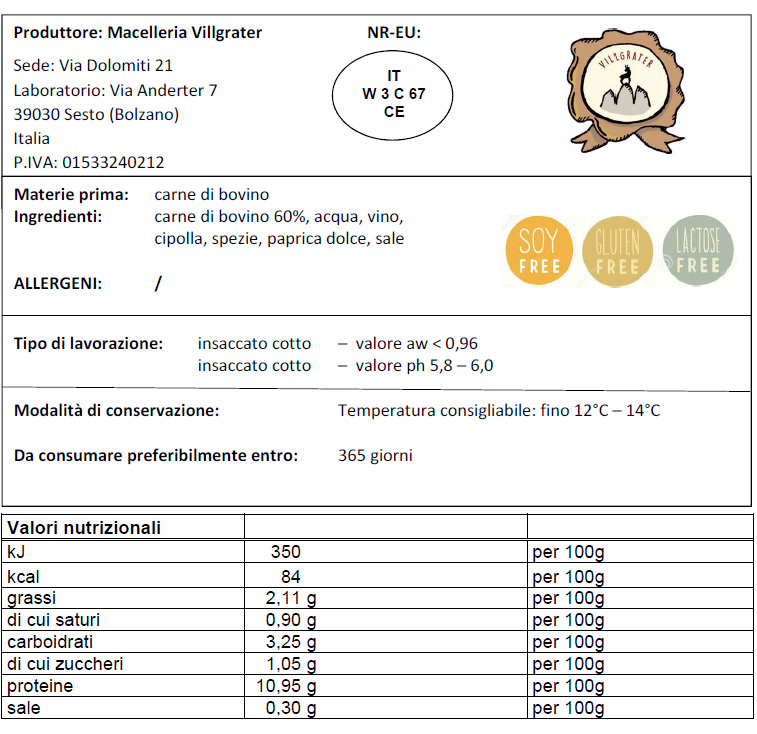 Only logged in customers who have purchased this product may leave a review.