Villgrater, Vienna suasages
Villgrater – Wurstel al formaggio da 210 gr. o 2250 gr.
€5,86 – €33,80 VAT incl.€1,50–€2,79 /100 g
Käsekrainer - Würstel with cheese: they contain all the pleasure of sausage and cheese in a delicious, spicy and inviting whole.
Preparation
Only the best ingredients are used for the production. Lean pork belly and cubes of cheese are added to the basic mixture, made with beef. The sausages with cheese are stuffed into natural casings and lightly smoked with beech wood.
How to taste them
Sausages with cheese are preferably served with mustard, ketchup and white bread. To prepare them, put them in boiling water and boil them for a few minutes over low heat.
Wrapped in cooked bacon, Käsekrainers are also excellent grilled.
Technical Sheet - Wurstel with cheese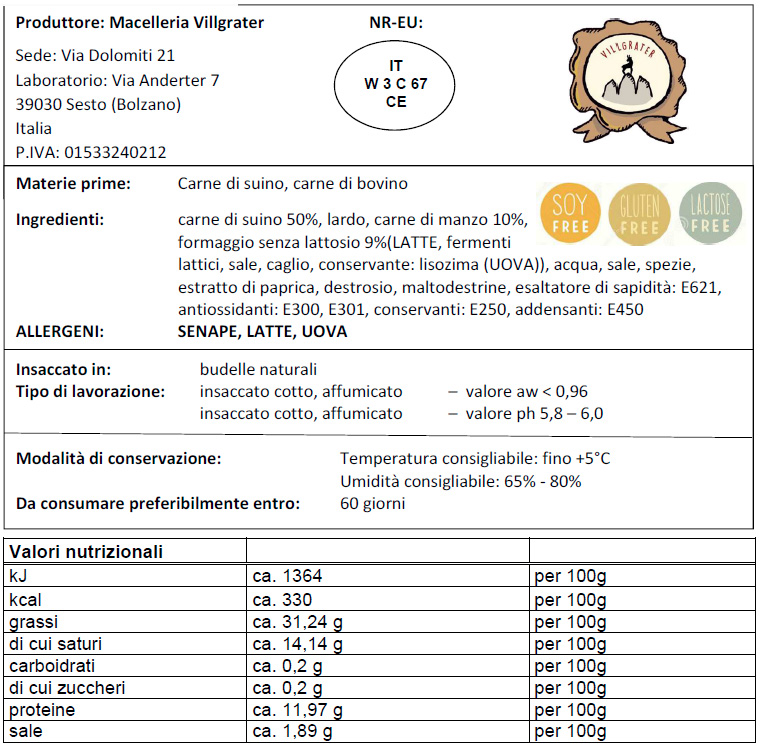 | | |
| --- | --- |
| Weight | N/A |
| Quantity | 30 pz, 2 pz |
Only logged in customers who have purchased this product may leave a review.