Villgrater – Salame al Finocchio da 330 gr. o 1800 gr.
€8,90 – €36,50 VAT incl.€2,03–€2,70 /100 g
For our fennel salami we use only the finest pork and season it with natural spices. Its particular spicy flavor derives from the delicate drying and maturing in the South Tyrolean mountain air. The delicious taste of fennel is thus optimally enhanced.
Preparation
For the preparation of the appetizing fennel salami we use the best pork meat. The salami is stuffed into natural casing and air-dried for at least 4 weeks
How to taste it
Served for dinner or as a snack, fennel salami should preferably be cut into thin slices. Lactose-free and gluten-free, this salami is the ideal dish for all gourmets.
Before consumption, remove the fennel salami from the vacuum pack and let it breathe at room temperature for an hour, so that it can develop its full aroma. Store the fennel salami in a cool and dry place.
Technical sheet - Fennel salami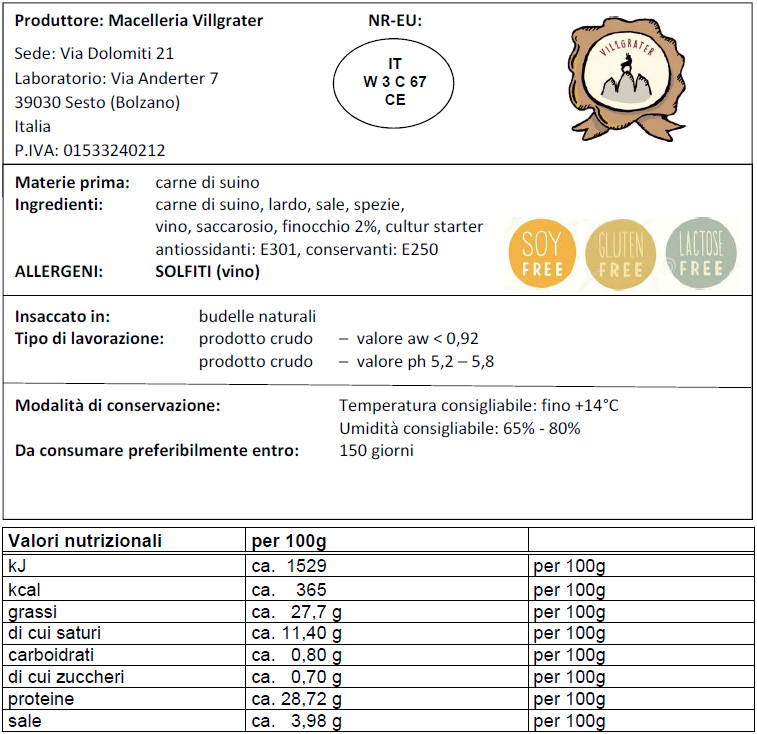 | | |
| --- | --- |
| Weight | N/A |
| Quantity | 1 pz, 1800 gr, 1 pz, 330 gr |
Only logged in customers who have purchased this product may leave a review.