Smoked salamini and salami, Villgrater
Villgrater – Affumelli Tirolesi da 200 gr. o 1700 gr.
€7,15 – €52,00 VAT incl.€3,06–€3,58 /100 g
Cigar-shaped salami are a typical South Tyrolean specialty. A delicate blend of spices gives the harmonious and decisive taste.
Preparation
Lean South Tyrolean beef and the best pork are the main ingredients of lightly smoked and air-dried artisan salami.
How to taste them
I pratici affumelli con involucro secco sono l'ideale per uno spuntino e come provvista per le escursioni. Sono squisiti con lo Schüttelbrot (pane di segale altoatesino) e con i Vinschgerlen (pane nero speziato).
Technical sheet - Smoked Tyrolean salami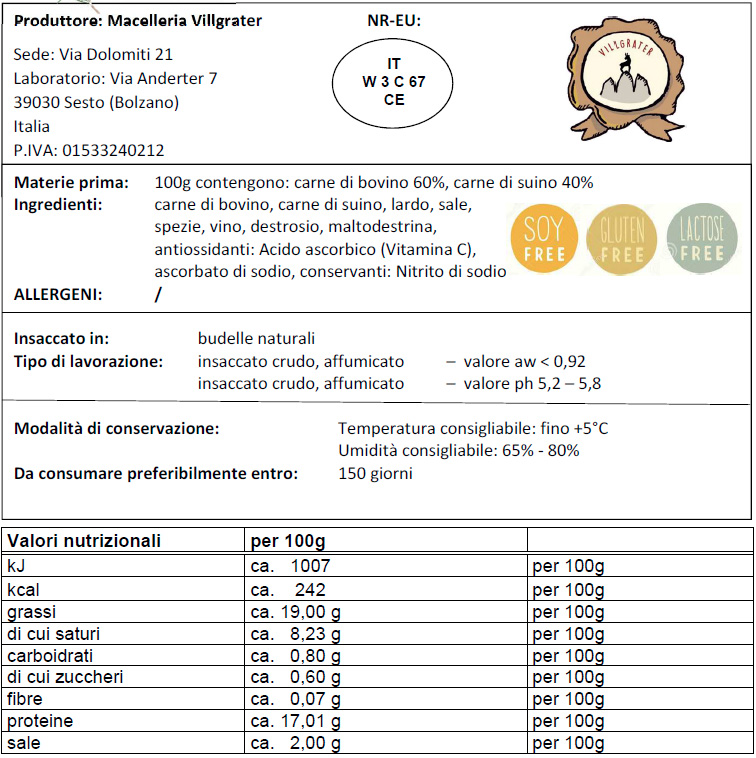 | | |
| --- | --- |
| Weight | N/A |
| Quantity | 25 pz, 3 pz |
Only logged in customers who have purchased this product may leave a review.