Alpe Pragas – Composta di Albicocca & Rosa Canina da 335 gr.
€6,99 VAT incl.
Our fruit compotes.
A wide variety of wonderful fruit pleasures and natural freshness. Reinterpreted according to ancient home recipes and produced in our laboratory with delicate and respectful techniques, to the delight of all gourmets. Our fruit compotes are characterized by their fruity aromas, authentic taste, low sugar and low calories.
Apricot & Rosehip flavor
Apricot & rosehip fruit compote - sweet apricots paired with vitamin-rich rose hips. Apricots are grown mainly in Mediterranean countries such as Italy and Spain. There are also growing areas further north, such as Val Venosta in South Tyrol, where our apricots come from. Rosehip, on the other hand, is a fruit that contains many small nuts. The pulp of the fruits harvested in late autumn comes from the pulpy soil of the flowers, is bittersweet and rich in vitamins. Fruits are known for their high vitamin C content.
Our Suggestion
Excellent for breakfast on bread, with natural yogurt or to refine desserts.
Scheda Tecnica – Composta di Albicocca & Rosa Canina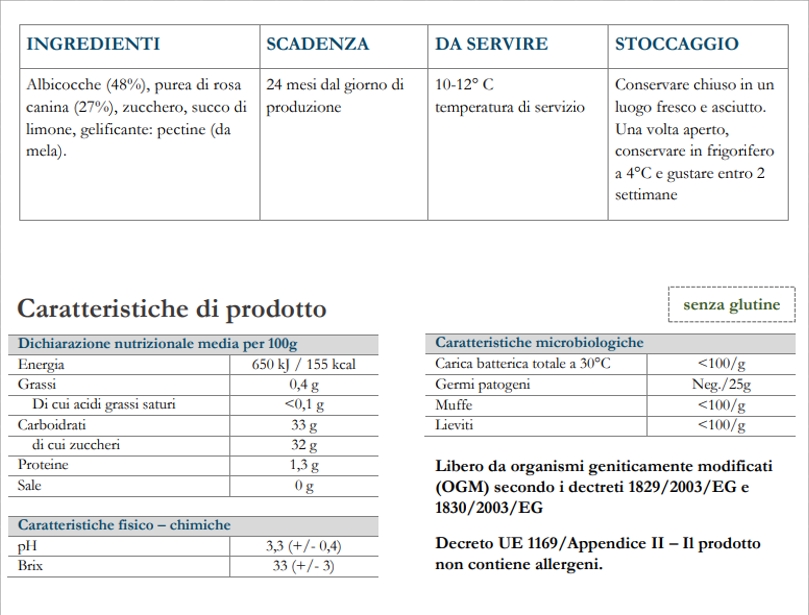 Only logged in customers who have purchased this product may leave a review.